Auto clickers are software used to automate the clicking of a mouse on a PC or Laptop.
Whenever we search for the best mouse auto clickers, the OP auto clicker always Pops up on the screen. Therefore in this article, we will be reviewing the OP auto clicker 3.0 to see what makes this auto clicker one of the best auto clickers in the market.
Instead of OP Auto Clicker, We highly recommend you to download OG Auto Clicker and just give it a try. You will surely love it.
OP Auto Clicker 3.0
Like all other auto clickers in the market, the OP auto clicker is also used to simulate mouse clicks on the PC. However, it stands out from all other auto clickers because it's fully customizable, efficient, and free of cost software.
This auto clicker can produce unlimited clicks for as long as you want. You can also put a time interval between clicks to make the clicking speed faster or slower.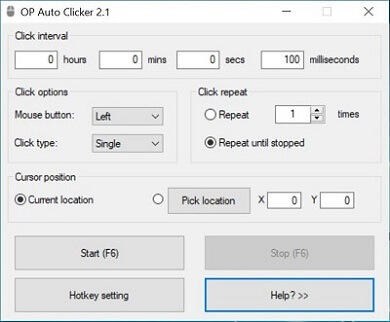 Besides this, the OP auto clicker has two modes for clicking, which take the utility of this auto clicker to a whole other level. First comes the Dynamic location mode, which allows the user to select an area on the screen on which the auto clicker would generate clicks. The second one is the Specific location mode which enables the user to choose a specific location for clicking.
You should trust me when I say that once you download and set up the OP auto clicker, there is nothing else left to do other than sitting back and relax.
For years this auto clicker has been the number one choice for gamers who use this clicker to play clicking games such as Minecraft, Adventure Capitalist, realm grinder, and many more.
This auto clicker can be downloaded on Windows 7, Windows 8, Windows 10, and other 64 bits systems, but sadly it's not available for Mac users.
Features
Unlimited clicks
Come with two clicking modes (Dynamic and Specific location)
Set any Hotkey on the keyboard to start and stop
Has 3 clicking options ( Right, Left, and Middle mouse button)
2 click types (Single click and Double click)
Has a playback option that enables your previously recorded options
Compatible with Windows
Downloading Guide for OP Auto Clicker on PC
If you're interested in the OP auto clicker and want to download it, here are a few steps you need to follow:
Step 1: Open your preferred browser and search for opautoclicker.com in the search bar.
Step 2: Once the website opens, you will be able to see a Download button on the screen >Click on it to start the download process.
Step 3: Clicking on the download button would automatically take you to the sourceforge.net website. You don't need to do anything here, and the downloading will start automatically after a short while.
Step 4: As the file size is very small, it would only take a few seconds for the file to download. Once downloaded, the file would appear on the bottom left of your screen. Click on the arrow in front of the file and select Show in folder.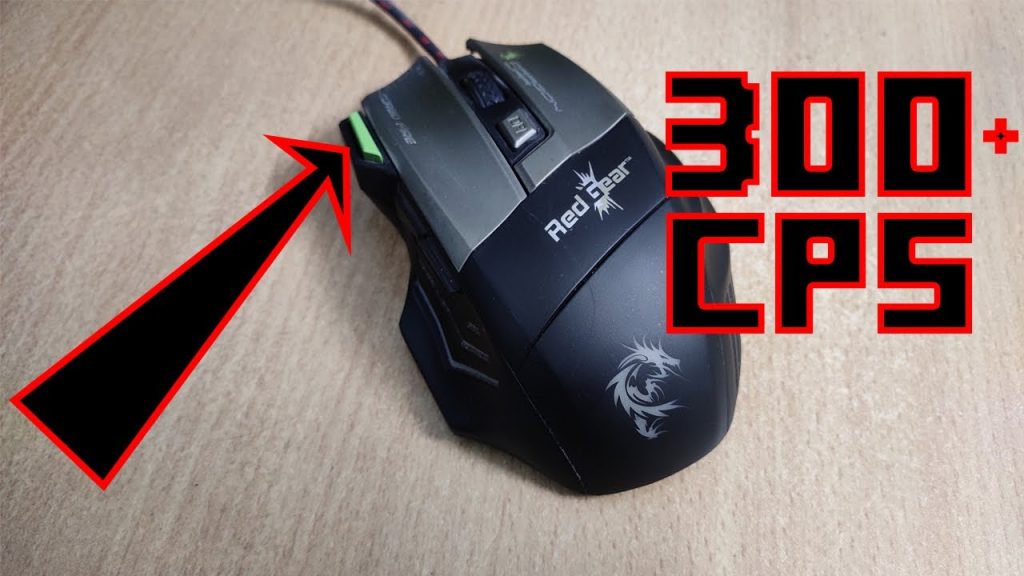 Step 5: Once it opens in downloads, right-click on the file > bring your cursor on send to > Click on desktop (short cut. The file will appear on your desktop and will be ready to use.
How to Use OP Auto Clicker on a PC?
Now that you have downloaded the OP auto clicker, you can use it by following these steps:
Step 1: Open the OP auto clicker by clicking on the app icon on the desktop.
Step 2: When the app opens, the first thing you will see will be the Click interval. The click interval could be set to any time between hours to milliseconds. Set the click intervals as per your preference.
Step 3: The second option on your screen will be Click options. Here you can select the mouse button you want to auto click, such as the right, left, or middle button. Select your desired button and move on to the next step.
Step 4: Just below click option, you will see Click type. You can choose one of the two click types: Single click or Double click.
Step 5: Just Infront of the click option is Click repeat. You can select the number of clicks you want here. Either by typing in a number or selecting repeat until stopped, which will give you unlimited clicks.
Step 6: The next option is the Cursor position. It has two options; the first is the Current location; by selecting this, the auto clicker would click where the cursor is placed. The second option is Pick a location where you can select an area on your screen for auto-clicking by putting in coordinates.
Step 7: You can start and stop the auto clicker by pressing the start and stop button below the cursor position. You can also start and stop the auto clicker by pressing the default Hotkey.
Step 8: If you want to change the Hotkey, press on the Hotkey setting below start and type in any button on your keyboard to make it your Hotkey.
Uses of OP Auto Clicker
Can be used by gamers to play clicker games. Most Roblox, Dogeminer, and Minecraft players use OP Auto Clicker.
It can be used to keep the screen of your PC active while you're on a break, so your PC doesn't go to sleep.
If your job revolves around data entry and you get tired of putting the same entries repeatedly, you can use the OP auto clicker to do this tedious task for you.
This auto clicker can also be used to refresh your Email after a certain time so you can receive new emails which would otherwise not be displayed until you refreshed the page.
Can be used to find bugs in a game or other software, which is why many programmers use this.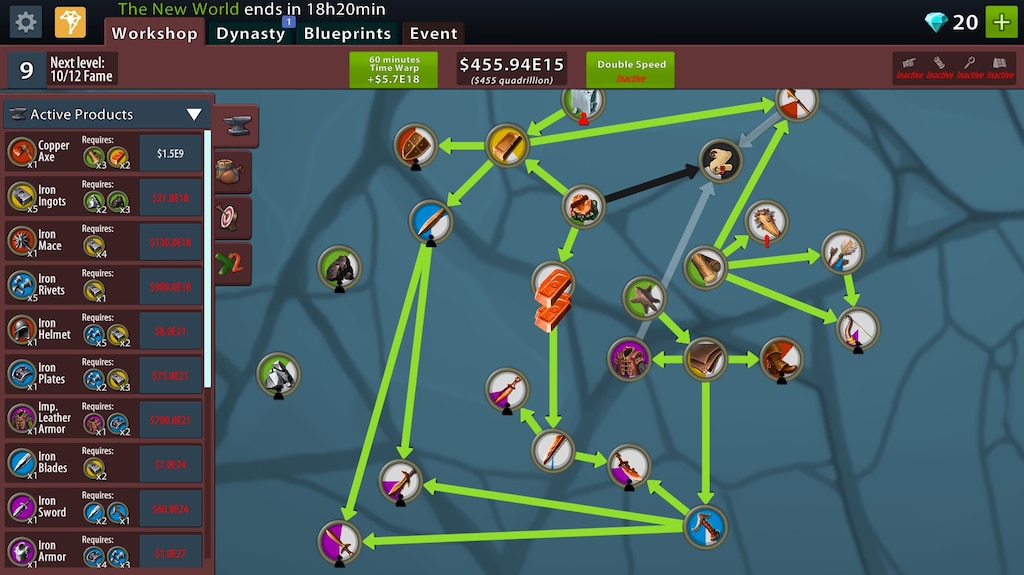 Frequently Asked Questions
Q1. Is the OP auto clicker safe to use?
Ans: The online market is filled with auto clickers with bugs and viruses, but that's not the case with OP auto clicker. It is 100 % safe to use and free from all kinds of Malware and bugs.
Q2. Is OP auto clicker free?
Ans: Yes! The OP auto clicker is free to use and can be easily downloaded from its official website.
Q3. What are the most trusted auto clickers?
Ans: OG is the most trusted auto clicker online.
Conclusion
Though many auto clickers are in the market, the OP auto clicker still stands out due to its customizable options and easy-to-use interface. So if you're someone who needs an auto clicker, then don't look any further a get the OP auto clicker, as it's truly the best auto clicker that you can get for free.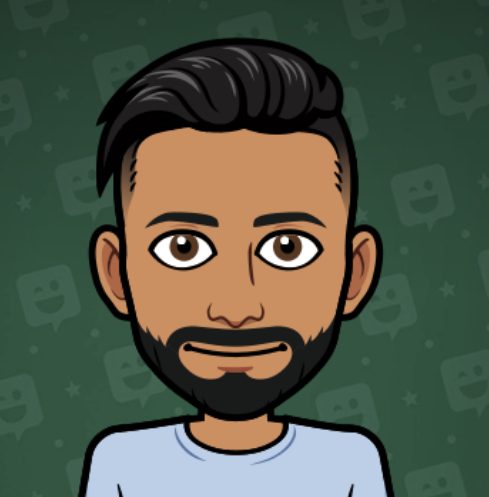 I am a tech geek who loves to build things and sometimes write.